Have you ever wished you had a Yoda in your life (or your business) to help you know what to do?
Well, guess what! It's not just the beginners who need a "guide" to learn how to market their businesses online.  Experienced marketers do too.
We get it.  So we are giving you a shortcut.
We have put together this list of  our Top 30 Marketers to follow.
In addition to helping you find your Gandalf or Dumbledore, we also wanted to share a little about what they offer their followers…including some freebies.
(Hey, we know that everybody starts somewhere.  And many times, they can only afford the freebies at first.  Thank heavens for the generosity of these pros and the miracles of the information age.)
So, let's get started!
———————————
1. Seth Godin
Seth Godin has been called the "Michelangelo of Marketing." But he defines himself as a teacher who helps people level up.
With his unconventional definition of marketing, you can see why his work has such tremendous impact. Godin defines marketing as anything we do to influence the culture of change.
Pretty zen, right? For those of us who have not ascended to his level of nirvana, he states it a little more simply.
"
Marketing is the generous act of helping someone solve a problem. Their problem
.
Marketing helps others become who they seek to become.
"
This multiple marketing Hall of Famer has been making a difference for several decades. Since selling his tech company to Yahoo! and becoming their VP of Direct Marketing, he has founded several companies and movements.
His work includes 19 international best-selling books on various aspects of marketing, leadership, and entrepreneurship. Readers like that his books are fairly short and consumable nuggets of wisdom.
He has given five Ted Talks, thousands of presentations and interviews, and he has blogged daily for decades. In fact, Godin says that daily blogging is better than meditation. (Incidentally, Seth's blog was name one of Time's  top 25 blogs.)
So, if Godin claims he is foremost a teacher, where are his classes? Well, his generous nature has much of his content everywhere online. For more intensive curriculum, Godin offers hands-on workshops.
Godin has created the altMBA workshop to help professionals level up their leadership influence.  The Akimbo Workshop helps freelancers, bootstrappers, and creatives to find their voice, lead the change, and build their business.
The Marketing Seminar  is a workshop aimed to help marketers effectively tell their story and make their desired change in the world. He also offers instruction at Udemy.com, a clearinghouse of online courses.
Godin not only supports charitable causes like Charity: Water, but he also helps teach non-profits how to effectively raise contributions to support the important work they do. 
We love his stunningly vibrant collection of glasses! What a classy signature look!
Godin At-a-Glance
Superpowers: Teaching people how to level up, doing projects
Pro Tip: Go for the smallest viable audience that could sustain you in your work. Focus on  those few and contributing to their desired change. When you do, they will tell their friends and you will find your audience larger than you expected.
Fab Freebie: Check out Godin's Free Content page.
Web site: https://www.sethgodin.com/
Blog: https://seths.blog/
2. Neil Patel

Neil Patel is a rock star when it comes to building brands and businesses.
But it is the subjects of SEO and content marketing where he really shines for his followers.
His secret?  Consistent posts and videos that help marketers solve problems.
His credentials are pretty stellar too.  Forbes, Entrepreneur, and the Wall Street Journal have all named him a top marketer and influencer. He is a NY Times best-selling author for his book, Hustle.
On the entrepreneurial side, Patel has founded several companies including Crazy Egg, Hello Bar, KISSmetrics, QuickSprout, and Neil Patel Digital.  Businesses like Amazon, GM, HP and NBC have grown thanks to Patel's expertise. 
As one of Facebook's expert speakers,  you can bet he has some "inside insight" on how to get the best results from the popular platform.
What you may not know is that Patel is also a psychology and behavior junkie. His brain is always working out ways to find the most direct routes for achieving an objective. 
This talent is part of his secret for hacking life (including dating) and business.  In fact, his use of these skills is part of the reason he gained recognition as President Obama's Top 100 Entrepreneurs under 30 and the United Nation's Top 100 Entrepreneurs under 35.
The best part is that Patel just wants to make the world a better place. So he generously shares his knowledge with marketers as well as supports a number of charitable projects around the globe.
Patel has created an impressive library of instructional videos for marketers. And he takes education a step further with his free Digital Marketing Training courses on SEO, e-commerce, content marketing and social media.
You'll appreciate Patel's gift for clearly explaining concepts that can sometimes be a little tricky at first.
When you are ready for more, you can check out some of his other remarkable digital marketing tools that make getting traffic and audience mind share easier and more predictable with automation.
Patel At-a-Glance
Superpowers: SEO, Content Marketing, Social Media
Pro Tip: Content marketing is the foundation of success. Whatever your objective is, when you consistently work on it every day and regularly publish content that helps people solve problems, in three years you will become that "overnight success."
Fab Freebie: Digital Marketing Training courses on SEO, e-commerce, content marketing, and social media.
Web site: https://neilpatel.com/
Blog: https://neilpatel.com/blog/
3. Ryan Deiss

Ryan Deiss is most known for simplifying and revolutionizing the "Customer Value Optimization" strategy.
The method has become a staple for businesses to guide prospects along their journey to become a happy customer. Deiss' model consistently proves that it works…and works really well!
You might never guess by his youthful appearance that this guy is known as the "Godfather of Digital Marketing."
Or that Shark Tank's Daymond John turns to Deiss for his digital marketing genius.
In fact, you have already probably come in contact with his work as either a customer or a student of marketing. 
Ever traded your email address for some information? Yep, that is part of his Customer Value Optimization method. Today they are usually called online funnels.
Or maybe your have seen ads for DigitalMarketer.com.  Or read one of their great articles.  Yep, that is Deiss too.
Have you seen clips from his popular Traffic  & Conversion Summit, the largest digital marketing conference in North America. Yep, that's his conference.
Speaking of conferences, Deiss hosts a Black Friday Bootcamp.  The proceeds from the event are matched by Deiss and donated to charities, such as the Battle for a Cure Foundation that helps children fighting cancer.
Deiss' best-selling books, including The Invisible Selling Machine, get recommended by other successful entrepreneurs all the time too.
You've got to admit, being an expert's expert is pretty cool.
Amid all his achievements as a marketer, author, and investor, Deiss maintains that human connection is at the heart of every success.  In sales, management, and investing, connecting and networking with people makes it all work.
4. Frank Kern
Frank Kern is one of the early explorers that blazed trails for how to make money online.
He did it by adapting traditional direct response marketing methods to the online world and adding automation.
Ba-da-boom!  Passive income and wildly successful businesses.
He makes it look easy. But keep in mind he has been working at it for more than two decades.
Kern is known as one of the most effective copywriters and consultants to companies  and celebrities around the world.
He can teach you how to turn online advertising into profits.  In fact, one client who used his strategies made $18 million in just 24 hours!
Not too shabby for a college drop out, surf bum, who started venturing into the online world while running an obscure dog training business out of a small trailer.But it is teaching others how to get profitable results that has become his passion! 
Kern teaches a strategy called the Behavioral Dynamic Response. It is an automated marketing method that shortens the sales cycle by customizing the marketing message based on the customer's behavior.
Kern is really into Neuro-Linguistic Programming (NLP). So you can bet that this discipline is part of his secret sauce. See this NLP review of a Frank Kern video.
Among Kern's best-selling books, you will find a handful of awesome how-to titles.
With all of Kern's success, you would expect him to have a sizable staff at his disposal.  But he does not. He has just 2 employees: an accountant and videographer. Kern is a big believer of outsourcing and freelancers.
Kern At-a-Glance
Superpowers: Quickly gaining trust and converting prospects to customers
Pro Tip: Give your audience small results in advance, incrementally. This builds trust gradually exponentially and grows desire for the product so they ask you to sell them stuff.
Fab Freebie: On-Demand Training "How Three Simple Stories Can Skyrocket Your Brand and Bring in More Customers."
Web site: https://frankkern.com
Blog: https://frankkern.com/blog/
5. Grant Cardone
Grant Cardone is arguably one of the most successful and recognized marketers on the planet.
When you look at how quickly he is able to generate massive dollar amounts in revenue, investment, or even fundraising, you can see why Forbes named him the Top Marketing Influencer in 2017.
While Cardone makes it look easy, he has accomplished tremendous things in spite of — if not because of — his challenges growing up.  You can read about in one of his many best sellers, Be Obsessed or Be Average.
Cardone is known for many things, like the 10X Movement that helps guide entrepreneurs to exponential growth, and his rise to wealth through real estate investing.
He also has a reputation for "bragging" and being pretty brash. But his reasoning for it is actually pretty sound. See what you think in this genius marketing mentoring video.
His strong suit for marketers is actually with his sales training.  He believes that every business comes down to selling. Unless entrepreneurs are willing to engage in those sales conversations, they will never achieve the growth they want.
And ever since his days as a car salesman, he has made a habit of sharing what he knows with others. You can find some of his most time-tested training at Cardone University.
In fact, he established the Grant Cardone Foundation to help mentor and provide financial literacy for under-served and at-risk populations.  There is a special place in his heart for children who lack fathers in their lives, like he did.
Cardone At-a-Glance
Superpowers: Marketing and Sales Training, 10X Movement, Real Estate Investing
Pro Tip: Obscurity will be your biggest challenge. It's about marketing yourself with a strong brand until the world knows you. So when you step into a room, you don't have to introduce yourself.
Fab Freebie:  Free Books, Free eBooks 
Web site: https://grantcardone.com/
Blog: https://grantcardone.com/blog/
6. Tim Ferriss
Many people become entrepreneurs because they want time freedom, like the 4-hour workweek outlined by top influencer, Tim Ferris.
But Ferriss will be the first one to tell you that getting to that 4-hour work week takes a lot of work to unplug and reset how you work and how you prioritize.
Ferriss has received numerous stellar accolades for his influence, investing prowess, and entrepreneurship advice from the likes of Fortune, Inc. Magazine, Wall Street Journal, and Fast Company.
But he also claims more unusual achievements. In fact, the New York Times called him "a cross between Jack Welch and a Buddhist monk."
He is a National Chinese Kickboxing Champion, a horseback archer in Japan, fluent in 5 languages, and the first U.S. citizen to hold a Guinness world record in tango dancing.
Yes, really.
Marketers will find that Ferriss is really good at helping people with their mindset, but in an uncommon way.  It isn't just a "be positive" cheer mantra. 
He teaches the practice of "fear setting" instead of goal setting.  Ferriss provides a methodical framework to help people deconstruct and address their fears. 
Fear is one of the biggest obstacles to getting what we want. He doesn't bury them. He shows you how to face them in a way that makes sense.
Of course, you can learn more about "fear setting" and other hi-performance practices in his books.
Ferriss' work is based in stoicism. 
I know.  At first, the practice may seem like a snoozer.  But stoicism is much more than you might expect. He explains it in this Ted Talk. 
Once you hear his background in the talk, you will gain a little insight into why his charitable work focuses on education programs and specific scientific research projects.
Ferriss blogs and podcasts interviews featuring star-studded guests, including Maria Sharapova, Tony Robbins, Matthew McConaughey, and Rick Rubin.
Ferriss At-a-Glance
Superpowers: 4-hour Workweek, deconstructing fears, developing hi-performance strategies
Pro Tip: Fear is something we all experience. You have to inoculate yourself against the fear of rejection, uncomfortable conversations, asking for things you think you might not deserve, but really need.
Fab Freebie: Tao of Seneca
Web site: https://tim.blog/
Blog: https://tim.blog/
7. Gary Vaynerchuk
Gary Vaynerchuk is the guy that Fortune 100 companies go to for branding and growth. He also inspires other top marketers.
When you trace his successes and businesses, you start to see why.
Vaynerchuk was just born with a knack for entrepreneurship.  From a kid with several lemonade stand franchises in his neighborhood to the media agency mogul he is today, Vaynerchuk has a knack for finding and the digital marketing "land-grab" opportunities.
You know, the kind of opportunities that make the proverbial rags-to-riches stories more prevalent than ever.
In fact, when it comes to building your business through the newest online platforms — and face it, the waters of Facebook, Twitter, and Instagram are saturated with sharks — Vaynerchuk will be one of the first guys to jump into those blue oceans and quickly show others how to navigate the waters.
Marketers will find some of the most cutting edge discussions on Vaynerchuk's blogs and podcasts. What might surprise you, though, is unexpected (and crazy good) advice. 
Vaynerchuk's #AskGaryVee show has made him one of the most accessible big time digital marketers out there. And that's really something considering his 12M followers.
Vaynerchuk has five best-sellers and has created several marketing agencies including VaynerX, VaynerMedia, and VaynerSports.
With his Belarusian immigrant roots, big dreams and charitable work are an important part of his core.  He supports organizations like Charity: Water and hopes to one day buy the New York Jets.
8. Harmon Brothers
Daniel Harmon and the Harmon Brothers are legends at driving a crap-load of sales with funny ads that go viral! 
In fact, the social media ad agency's book, podcast, and training is all focused around this idea of turning Poop to Gold.
Yes, yes.  We can hear your inner child falling off his/her chair in uncontrollable, gut-busting laughter at that name. But when you know where it comes from and the results they get, your snickers will get a cleansing dose of respect.
Harmon Brothers have brilliantly used good, clean humor to sell products that do dirty jobs, like bad breath, stinky pits, and pooping — twice.  
Have you seen their ads with the medieval, rainbow ice cream-pooping unicorn for Squatty Potty?  
Or the beautiful British socialite lilting potty talk in her finest accent for Poo-pourri?
Or the French singer doing her not-so-discreet song and dance about smelly pits and bits for Lumē deodorant?
They are entertaining, humorous, and they sell products like crazy! It's almost obscene, actually:  1.4 Billion views and $400 million direct sales. And that is only what they have been able to track. 
While humor is the Harmon Brothers hallmark, their techniques work for any sort of product or service. They even helped with the Save the Storks project.
Their style has been so popular that they now teach others how to make their own magic with training from Harmon Brothers University.  The training covers everything from ad basics, to video ads, and how to buy ads and track their results. And the first lesson of each learning track is free.
In their generosity of the 2020 lockdown, Harmon Brothers held a contest awarding an ad campaign to the winner — a prize worth $500K. The process was documented and published to help other businesses see a campaign from start to finish.
They also put entertainment standards in the hands of the audience with their video streaming and filtering service, VidAngel.
With Harmon Brothers, they have made an art of good, clean fun in marketing.
9. Donald Miller
Donald Miller has perfected the art of compelling storytelling for business growth! 
He has taught storytelling to many of the other top marketers in this list as well as some of the biggest brands you know.
And he can teach you too!  In fact, he hosts a workshop to help marketers clarify their brand and write their story through his site www.storybrand.com. 
Miller is crazy good at clarifying and simplifying just about anything.  Storybrand will help you do that with your marketing.
But if you want the same for business skills, or even driving a more meaningful life, his Business Made Simple University is something you will want to check out. That is also where you will get access to his powerful daily podcast of the same name.
Miller is a dynamic author. His books have collectively spent more than a year at the top of the New York Times Bestsellers list. As you can see from the titles, his books cover a broad range of topics, way more than just business and marketing.
His book, Blue Like Jazz, was made into a major motion picture with Miller earning his own writing credits. 
Miller is also one of the most engaging speakers you'll find.
Donald Miller At-a-Glance
Superpowers: Clarifying messages, storytelling, branding
Pro Tip: The key to messaging in marketing is to associate your products with the survival of the customer, and do so in such easy, simple language that nobody has to burn any calories to understand it.
Fab Freebie: How to Tell A Story
Web site:  https://storybrand.com/ 
Podcast: Business Made Simple
10. Peter Hollens
Peter Hollens is the digital marketing mix-master for musicians and creatives! 
You may not hear this classically trained vocal artist played on your car radio stations, but he has become one of the most successful independent musicians on YouTube and Patreon, an online service where fans subscribe to regularly released content of their favorite artists.
Hollens' rise in media got its start when his a capella group, On The Rocks, appeared on the music competition show, The Sing Off.
What began as a wish for a legacy for this group, however, has grown into a prosperous music career on Hollens' own terms. And it was done thanks to talent, mad skills, and videos.
Any successful marketer  — including Hollens — will tell you the value of collaboration for creating content and growing their businesses.  Most will do this with interviews.  
While those interviews teach us a lot, Hollens' work adds some really awesome entertainment value!
Just watch one of our favorites — Hollens' collaboration with Anthony Vincent (Ten Second Songs).  
WARNING:

You may not be able to watch just one.
Hollens has been so successful with his work that YouTube added him to the YouTube creator advisory board. He also advises other media companies including, Patreon, Loudr, and Tubular.
Best thing is that Hollens teaches other creative types how to make a living online doing what they love through his surprisingly affordable Creator Academy. His work is particularly great for musicians, artists, and comedians!
11. Russell Brunson
Russell Brunson makes it possible for the little guy to become a big success with digital marketing and sales funnels.
He has done this with the creation of his Saas company, Clickfunnels. Heard of it?  Maybe. Maybe not.
But chances are extremely high that you have looked at — or even purchased — a product or service that was promoted using his Clickfunnels platform.
One of the craziest things is that Brunson was able to bootstrap his business by giving away books on how to build a business online with digital funnels. 
He is still at it too.  Here are his most popular titles.
Not too shabby for a kid who collected junk mail and got his start selling information products with a DVD on how to build potato guns. (Yes, he is an Idaho boy, through and through.)
Brunson's passion is to help people become successful…by helping them help others. Servant leadership in a button-down shirt is definitely this guy's style!
Brunson's enthusiasm for service is also reflected in his charitable pursuits. He involves his customers in it too.  He donates $1  (and his time) for each funnel launched in Clickfunnels to Village Impact, an organization that builds schools in Africa.
He is also one of the more visible supporters of Operation Under Ground, a non-profit organization that rescues children from sex trafficking.
For newbies to online marketing, Brunson does something really cool.  A few times each year, he runs a One Funnel Away Challenge. For an affordable fee, marketers can be coached through the step-by-step process of creating a business that uses a digital funnel. 
Even if you decide not to launch a funnel, the Challenge itself helps walk you through all the decisions and elements for launching your idea. But a number of his "funnelhackers" do the challenge repeatedly to help them work through their next product launch.
For those not ready to jump into that challenge, you can find a treasure trove of his content all over social media!
12. Mari Smith
Mari Smith is THE top Facebook marketing expert, aka – The Queen of Facebook.
On the stiletto heels of success in e-commerce and digital marketing, Smith was introduced to Facebook in 2007.  Within a few weeks she was so impressed with its capabilities that it transformed her career.
Now she is a sought after speaker and consultant on digital marketing.  In fact, even Facebook asks her for help – especially with respect to small- and medium-sized businesses.
Frankly, with the frequent changes to the popular social media platform, she can help you stay on top of it.  Plus she examines all the newest platforms with a critical eye.
Smith will tell you though, that the real power of social media is in building relationships with your audience.  Relationship building is the focus of her books too.
While Smith's services target corporate clients, she also also has some useful online training for anyone looking to be more successful on Facebook.
This naturally includes lots of great tips for creating valuable videos — something Facebook loves!
And of course her blog and YouTube channel are filled with her relevant and actionable content.
Plus, we love her classy sense of style and her olympic smile!
13. Larry Kim

Larry Kim is the guy our top marketers follow for expertise on messaging/chat marketing. So he's kind of a big deal!
And we will get into that in just a minute. 
But some turbo value you really need to know about has to do with Kim and unicorns and unicorn babies.  (No worries…this is a family friendly article.)
Kim's shtick revolves around unicorns — those rare and magical marketing campaigns.  You won't want to miss this interview linked below. It just might change how you approach your marketing campaigns.
Now…back to the chat marketing.
Since the invention of SMS, marketers have been fascinated by the high open rates of these little tiny messages.  As mobile technology has gotten "smart," short quick messages with phones and a variety of apps have found the same thing:  people are way more likely to open a quick message than they will an email.
Kim is the definitive leader when it comes to the best ways to use these messaging tools to market and acquire customers!
He founded MobileMonkey, which provides a platform for unified chatbot messaging. So customers can connect real time with companies via web chat, Facebook Messenger, SMS, or Instagram.
What is really fab though — especially for marketers just getting started with chat bots — he offers a MobileMonkey Free Edition.  And there are more fantastic features in the paid versions.
While blogging is a mainstay for all the top marketers, Kim publishes his work on medium.com.  He is the #8 most popular author on that site.  (That's pretty darn impressive.)  
For those marketers with an inner child that is a super techno geek, Kim's books may be of interest.
In addition to all this, Kim is also an expert at digital ads, especially AdWords and Facebook.
Oh yeah!  He founded the company WordStream to make effective online advertising easy for any size company or agency.  He has some free analysis tools there too!
 So – if you want to gain some skillz in crazy good marketing campaigns and chat marketing, Kim is the guy to follow! 
14. Rand Fishkin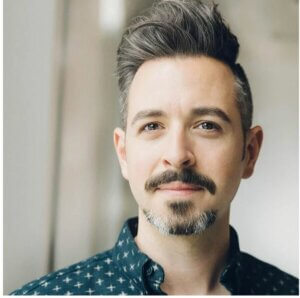 Rand Fishkin is an SEO and Audience Intelligence phenom with his feet firmly grounded in data.
Fishkin got his start with a blog.  After all, isn't that the hub for most marketing these days?
His blog became so popular and so many people asked him for help, that it turned into a consulting firm and then SEO software company called Moz.  
Moz touts a smarter way to do SEO with data and metrics to drive marketers' decisions.  And their clients are brands that are household names.
Building on his experience and hard-earned success at Moz, he and his business partner started solving another important marketing data problem:  audience intelligence! 
Their company, Sparktoro, does the heavy lifting with data!  Their system scours the web for information about people and clumps them into profiles, so users can quickly find out how to best reach their desired audience. 
Fishkin has come up with an incredibly cool tool!  While it is likely to become a marketing staple, only those who have had to do "old school" audience intel will truly appreciate all it can do!
But Fishkin isn't building this new company the way you might expect. In fact, some may say his philosophies are backward. But listen to what he says about it.
Fishkin wants to focus on being the best at what he does and growing organically, rather than committing to fast growth for investors.  That has changed everything!
While he has been wildly successful as an entrepreneur, he makes no bones about the hard work behind every success.
In his book, Lost & Founder: A Painfully Honest Field Guide to the Start Up World, he shares the truth about starting a company.  The endeavor is certainly not for the faint of heart. But his book can help entrepreneurs and business leaders navigate some of the tough stuff.
Fishkin's blog continues to offer lots of really compelling content and in a new, fresh way! 
His uncommon perspective and frank discussions about the realities of the work will make followers better-informed practitioners with realistic expectations.
Fishkin At-a-Glance
Superpowers: Data-driven SEO and audience intelligence
Pro Tip: Focus on right-fit clients. Not every client is right for every agency, but because many agencies need revenue and clients short-term to help pay the bills, they bend over backward in attempts to serve clients that probably aren't good matches. That may not be the best use of your time.
Fab Freebie: SparkToro Free Account
Web site: https://sparktoro.com/
Podcast: https://sparktoro.com/blog/
15. Matt Bailey

Matt Bailey is the guy who helps make marketing logical, measurable, and predictable. That's good for any business.
As you become familiar with Bailey and his work, you will quickly see why his training courses are in such high demand. He has a gift for taking a complex or elusive idea and making it easy to understand.  That is not something everyone can do well.
Plus, he is fun! 
Like many of our top marketers, Bailey was one of the early pioneers who figured out how to make money using the Internet. For him, it was an online real-estate business.  He grew it, sold it, and moved on. That would continue to become a pattern for his career.
He started helping web development agencies get marketing expertise in SEO when that became an emergent need.  This led to his own marketing agency, Sitelogic.  
But the need for his marketer training grew so much that Bailey sold his agency and remade Sitelogic into a marketing training and education firm. 
Now, he focuses his work time on training marketing teams around the world and creating a vibrant podcast with other top marketers.
Along the way, Bailey has written a few books that are sure to boost your marketing skills.
For those who want to learn more from Bailey, he offers a number of really useful courses online.  He uses outside course platforms that you are already familiar with:  Lynda.com, Udemy, inLearning (LinkedIn), and Simplilearn to name just a few.
16. AJ Wilcox

AJ Wilcox is the guide you want for navigating the world of LinkedIn Ads.
Though LinkedIn has taken longer to gain in popularity compared to other social media platforms, marketers are starting to learn that it is the best social media platform reaching working professionals.  
That translates to prospects with better buying power. And those valuable audiences come with a higher price tag for ads on LinkedIn. 
That is why marketers follow and invest in the expertise of Wilcox.
Wilcox started with blogging…about cars.  Fast ones are his personal favorites! And his revving passion for them is still in high gear!  (You can hear the zoom of race cars in your mind right now, can't you!?)
He really sunk his teeth into LinkedIn Ads (as well as several other ad platforms) working for top tech company, DOMO. 
His talent for high-converting ads led him to become an instructor for LinkedIn Learning. And eventually led him to found B2Linked, the only agency that is an official Certified LinkedIn Partner.  Those certifications are not easy to come by either.
Check out Wilcox's podcast, The LinkedIn Ads Show.
What you'll love most about this ginger triathlete is the great advice he gives down to a tactical level!
Yes, he can explain the overall strategies like any top marketer.  But he goes further in providing examples and verbiage to help you through the more detailed pieces of your campaign.
Wilcox At-a-Glance
Superpowers: LinkedIn Ads, online ads
Pro Tip: The type of lead magnet doesn't matter so much. But what makes a difference in conversions is telling prospects 1) what they will learn, and 2) what they will be able to do after they consume (read/watch/attend) the lead magnet.
Fab Freebie: Advertising on LinkedIn Course  (with a free trial of inLearning)
Web site: https://b2linked.com/
Blog: https://b2linked.com/blog/
17. Joanna Wiebe

Joanna Wiebe is called a "copywriting genius" because she gets 10X results with words…backed by research, of course.
Wiebe has the soul of a creative writer. Upon entering her career with a marketing agency, however, she learned that flowery ideas are nice, but they don't necessarily sell stuff. 
With an uncanny work ethic, she learned from masters old and new how to use words to draw customers to businesses. All different kinds of businesses.
Through a lot of trial and error, she was able to consistently get spectacular lift and conversion results with her methods. Thank to a solid career with Fortune 500 companies and a fantastic track record.
She eventually founded her own copywriting training firm, Copyhackers, and she caters to start ups, entrepreneurs, and marketers. 
Don't want to do the copywriting?  She's got a directory of copywriters that you can pick from.
Wiebe is a huge fan of A/B testing!  She probably gets as excited about the results as most folks do watching a great ball game…watching which team will score the most points!
But it is the fail tests…yes the campaigns that fail…where she learns the most. 
Wiebe is an author too.  A fiction novelist whose titles comprise the V Trilogy.
While her books are sure to tickle your imagination, it's probably her marketing content you are really after.
So check out her blog and the myriad of articles, case studies, and courses on the CopyHackers site. 
Check out this awesome hack!
Wiebe teaches how to get inside your prospects' minds with Amazon Review Mining.
If you'd like a better way to gather and organize your research for your writing, you will definitely want to check out Wiebe's AirStory platform.  It ends the need for 100 open tabs in a browser that kills your computer performance. And you might not go through as many sticky notes either.
Also, keep your eye on her courses and deals that she publishes through AppSumo, like an incentivized feedback tool called TryDisco.
18. Joe Pulizzi

Joe Pulizzi is a King of Content, being credited with originating the term, "content marketing" more than two decades ago.
When social media got its start, Pulizzi quickly recognized its power for fostering loyal audiences that turn into raving fans.
The secret sauce? Content!
Among the many businesses Pulizzi has founded, Content Marketing Institute. As its name suggests, it is a community that passionately educates businesses and marketers about all things content marketing.
Even if you think you know all you need to about content marketing, Pulizzi's advice will come with some surprising twists!  Like long-term commitment to your content marketing, keeping your day job, and buying an audience – but not necessarily with ads.
Additionally, Pulizzi keeps an active speaking and events schedule to further evangelize this art.  He is pretty easy to spot in his signature orange button down shirt.
If all that content isn't enough, you might want to get your hands on one of Pulizzi's best-selling titles. BTW, you can get his newest title, Corona Marketing, free.
On his philanthropic side, Pulizzi started the Orange Effect Foundation.  The organization provides grants to help children and teens get speech therapy and technology devices to aid their communication.
19. Ann Handley

Ann Handley is a content marketing pioneer (in flashy pants) that our other expert marketers follow! And she is the world's first CCO!
CCO? That stands for Chief Content Officer!
This fiery phenom has been leading out with content that gets real life results.  
While she may make it look like magic, she will be the first to tell you that there is no such thing. 
It takes practical tools and consistent practice to write well.
Handley is the CCO at MarketingProfs, a marketing training company that helps marketers build their businesses. They are particularly strong in the B2B space.  Her objective is to help marketers rethink the way they market so they can grow in new ways.
Forbes recognized her as a top social media influencer and she is a Wall Street Journal best-selling author.
It might surprise you that a top marketer like Handley promotes newsletters as an undervalued yet tremendously effective tool for marketers.
Be sure to sign up for her Annarchy newsletter too.
In addition to her incredible wardrobe for which she is known, Handley is also a tiny house enthusiast. Hers serves as her office!
20. Scott Stratten

Scott Straten is succeeding by UNdoing everything in digital marketing! 
Sounds chaotic and counter intuitive right?!  Well…UNdoubtedly that is part of Stratten's shtick. Disruption is his game!
Though his name sounds like it's from a romance novel, Stratten proudly sports an impressive beard and a man bun.  He is probably "the hippie" of our top marketers. We mean that in the very best way, of course.
It isn't his non-traditional sense of style that earns him that honor.  But it is the raw (yet tactful) honesty with which he approaches businesses and marketing.
Even the name of his podcast, UNPodcast: The Business Podcast for the Fed Up, reflects his snarky authenticity and brand.
Stratten founded UnMarketing to help flip the practice of marketing on its head.  
Well…it is more like honing in on the core of what matters most to those who matter most. And what matters most may be different for every organization.
This passion for ethical, authentic marketing started after he studied businesses that have survived widespread economic downturns. Turns out, these thrivers all had fostered customer loyalty…gobs of it.
Though he has led successful sales teams, marketed in the music industry, built a voracious viral video company, and proclaimed as a professor, Stratten is determined to help businesses build better relationships with their audiences and customers.
Together with his muse/wife/business partner Allison, Stratten his methods through their podcast, newsletter, blog, training, speaking engagements and, of course, books:  six best-sellers so far.
Be sure to sign up for his UnNewsletter too.  We think you'll find his UNcommon take quite refreshing.
21. Jennifer Polk

Jennifer Polk is the navigator for corporate marketing executives that are steering the proverbial big ships
! 
While many of our top marketers cater to entrepreneurs and will consult with big name clients, Polk has the experience and skills that CMOs seek out.
Large companies, by nature, have a lot of moving parts and a whole lot of humans working those parts.  That much power can drive amazing innovations and movements.  
But managing all of that takes wisdom that comes from the right kind of analyses and experience. This is Polk's sweet spot! 
As Gartner for Marketers' Chief Researcher and CMO Adviser, Polk has some robust data resources and techniques in her toolbox.  Tools that many CMOs may not have so readily or that they may need advice on.
Polk's background definitely shows she has the chops for it too!  A formal education in accounting and businesses, combined with a career of building relationships, brands, and consumer action.
During her career she has helped grow brands with household names that you'll undoubtedly recognize:  including Sears, Olive Garden, ACE True Value, Burger King, and SC Johnson to name just a few.
This is why Polk is so good at helping CMOs devise the most effective strategies to propel their businesses forward.
Be sure to check out her blog posts and take advantage of her free 1-hour course on digital marketing optimization.  BTW – there are lots more where that came from.
While her day job is big business, she balances that with serving in her local community, having volunteered at her church food pantry and singing in her church choir. 
22. Barry Schwartz

Barry Schwartz is the storm tracker of Search Engine Optimization, both on the technical and practical side of it! 
The ever-changing nature of search engines requires the most tenacious storm trackers to continually chase those proverbial weather systems. 
Schwartz is just such a person. Better yet, he reports it all to the SEO specialist, so they can prepare for and adjust to the onslaught of changes. 
That means all the technical stuff like algorithms, machine learning, business changes, and the like.
He is appropriately skeptical too. 
Schwartz got his start as a teen with his twin brother when they opened their web software agency, Rusty Brick. While his brother has always loved the programming side of things Barry took a keen interest in search rankings before the term "SEO" had even been settled on.
Because of his years of experience and constant monitoring and writing about it, he has become an expert sought out for his knowledge and results from clients.  (Yep – that means Rusty Brick has no sales people.)
Along with running the agency as CEO, Schwartz is the Editor of Search Engine Rountable, a site that reports and summarizes the hottest discussion threads on all the main search engine marketing forums. Schwartz is also the news editor a Search Engine Land, a daily news outlet for all things SEO. 
He received the Outstanding Community Service Award from Search Engine Land and was named the US Search Personality of the Year by US Search Awards. 
Schwartz has said that one of the best ways to keep your search engine rankings high is to stay head of Google's content preferences. 
Stalking Schwartz is one of the best ways to do that. 
23. Lilach Bullock

Lilach Bullock is an award-winning Mumpreneur who coaches businesses and delivers SEO-friendly content that works!
Bullock has been named a top social media influencer by Forbes, Oracle, and CareerExperts.  
The funny thing is…she landed here as a result of a failure.
Through creating successful businesses, selling them, she was on her way to create a fantastic technology tool.  For a variety of reasons, the project never reached completion.
With what she learned from that experience, Bullock ended up opening a content marketing firm that has grown wonderfully successful and she is happy as can be.
Because of her successes and failures, Bullock also coaches entrepreneurs on the business side. 
She knows from experience why you need to demand payment up front, how to value yourself and your skills, when you need to outsource, and the like.
Bullock can help you avoid the burnout of building your own business, and help you go from "passion to profit." 
She can help with the big picture, and can also guide you through the nitty-gritty details of the work too.  That isn't something everyone can do, frankly.
Bullock is polished on the content marketing side too.  Her work has been featured in many of the biggest name publications including: Forbes, Huffington Post, Social Media Examiner and many others.

Twitter is one of Bullock's favorite platforms and is the subject of one of her Amazon best sellers.
You will find heaps of actionable  "how-to" and "ultimate guide" pieces in her blog and on her new podcast, the Lilach Bullock Show.
As a final note, we applaud Bullock for openly sharing how prioritizing her role as a mother has guided her career choices.  All parents are important, and we gratefully acknowledge the special influence of mothers on their families and society.
Cheers to you, mum!

24. Kim Garst

Kim Garst is the Social Selling Sensei for entrepreneurs looking to establish their brand and grow their business through social media.
With a background in political science, becoming a social selling superstar wasn't what Garst had envisioned for her career when she was in college.
But figuring out how to make a profitable online business in the 90s…without all the done-for-you tools and how-to tutorials…became her focus as she created her own alternative to office work. 
Why the pivot?  The very best reason: her young children.  (We love moms!)

Because she had to figure it out "the old-fashioned way" Garst has longevity experience.  She knows how to dig for the information you need. She has seen what works and when it works best.
Her experience and success is why Forbes included Garst in their Top 10 Social Media Power Influencers.
Because anyone can become a publisher or an entrepreneur with all the tech at our disposal, she wants marketers to know that authenticity will make all the difference in the world.
That's why Garst's latest book, Will the Real You Please Stand Up,  is an international best seller.
Garst is a highly sought after consultant and speaker.  Her followers can glean lots of great tips from her blog. 
Garst also hosts (and does giveaways) each week a Live Video show, Marketing that GROWS Your Business.
If you like a more structured approach to the content you select, join Garst's Business Builders Academy, which is surprisingly affordable.
If you want help with visual elements for social media, Garst has you covered with freebies and tips.  This makes her a particular favorite for network marketers.
25. Pat Flynn

Pat Flynn's authentic and unconventional teaching style gets uncommon results with entrepreneurs and marketers.
The year 2008 tanked Flynn…liked it did the economy. He had been laid off from an architecture firm during that recession. Though he interviewed for several positions, he was not hired. 
He counts those failures as blessings.
Flynn's desperation became the father of his reinvention as an entrepreneur and digital marketer.
Inspired by some of our other top marketers, Flynn took what he knew and created a course about it.  He helped people prepare for an architecture industry certification exam!  
This little venture grew. He put it on autopilot. And it still makes him a bunch of money today.
But Flynn's hunger for creativity and building wasn't satisfied and he has since created several other businesses.  All of them generating revenue.
He recounts much of these hard-earned lessons in his best-selling books.
Now Flynn teaches others how to do the same.  But he does it in a less-conventional way.
He teaches by sharing his failures!
Flynn shares the good, the bad, and the ugly of his journey. That way, his followers learn which pitfalls to avoid as well as the detailed steps that lead to success.
Followers can find a heap of relevant and actionable content through Flynn's Smart Passive Income community.  While he shares valuable Business Toolkit for free, he also offers a number of great courses, you will want to check out.
When Flynn describes himself, he leads out with his role as a father.  (Kudos!!! We love dads!)
And while he contributes to many charitable endeavors, Flynn does so  rather quietly.
Not because it isn't important, but because the good work is about those being served.  Not about him.
The one exception he openly shares is Pencils of Promise. The organization builds schools in underdeveloped nations like Ghana.  
Flynn loves that it enables learning, independence, and stronger societies. He is simply humbled to be part of it.
26. John Rampton

John Rampton is a serial entrepreneur who became a millionaire at age 24. He can show you how to do it too. Oh, and he is big into Twitter!
Rampton will be the first to tell you that entrepreneurship is in his blood. But it took a nasty construction accident that crushed his leg to refocus his future.
Rampton's improbable recovery showed him, and everybody else, that he had the grit to succeed at anything.
Doctors told him he would never walk again. He took risks with experimental treatment. And he had to figure out how to make a living.
So he spent his 18 bedridden months studying online marketing. Learning, and taking risks. Surely, there were thrilling highs and discouraging lows. 
Against the odds and "expert opinion," he succeeded with flying colors (and hard work) in both areas!
Starting, growing, and selling tech companies made him lots of money. And like a true entrepreneur, he keeps going…building new companies that solve problems, big and small. His current project is an evolved calendar system for today's generation.
Rampton seems to have a real knack for content creation and promotion.  And those skills have made him a regular contributor to the big name publications.
Can you say TechCrunch, Inc., Forbes, Entrepreneur Magazine, and Huffington Post?
Not to mention his many awards as a top world influencer in online marketing, PPC, blogging and such. Wham! Boom! Bam!
He even co-authored a couple of books that might interest you.
With all his accolades and success, his work comes down to one thing:  helping other people solve problems and be successful…without expecting anything in return.
That generous heart is also why he volunteers with two very special organizations that support those who have lost loved ones:  The Open to Hope Foundation, and Compassionate Friends.
27. Heidi Cohen

Heidi Cohen is tops at breaking down marketing principles into "digestible" and actionable marketing tips!
Cohen is the creator of the aptly-named Actionable Marketing Guide. She helps marketers grow their businesses with solid marketing techniques.
For newbies (and those returning) to the marketing world, Cohen is a terrific expert to start with!
Cohen's marketing career may have taken a more traditional route, but she has always done it with true New Yorker panache.  
Cohen received top honors from U of Chicago and NYU. She went on to work for major international brands including Citibank, The Economist, and Bertelsmann. 
Yep…she's got some serious marketing chops!
But Cohen took her enthusiasm a step further and started teaching the next generation cutting edge marketing at NYU, Rutgers, and CUNY. 
To stay cutting edge, professors must continually learn and lead out as new technologies and trends emerge. This is where Cohen really stands out!
Cohen is on top of all the latest trends that are backed by actual data! Her work regularly includes infographics showing the important data points. Plus she explains what it means to you.
All that information means you can make better decisions about your business. Plus, it can help you justify your marketing to the boss!
Cohen provides relevant, timely, and actionable tips for keeping your own marketing fresh and on point.
For those who are new to marketing, Cohen also takes the time to define and explain the fundamental marketing concepts.  
The "old tricks" may seem pretty "meh" compared to the newest shiny objects. 
(Shhhh…Wanna know a secret? Many "experts" make up their own terms for activities that have actual names in the marketing discipline. Cohen will teach you the real stuff.)
But here's the thing: those new shiny objects use marketing fundamentals to work right.
You know what else she does well? Cohen covers some less common — but still important topics, such as voice marketing.
Voice marketing is a bigger deal than most people realize. It impacts more of your business than you realize. 
Watch Cohen educate on voice marketing in this Voice Global presentation,
And with new audio-centric platforms (like Clubhouse), we expect this to become a hot topic.
Cohen offers fantastic content on her site.  But it is in her AMG Newsletter that she provides the unpublished hidden nuggets that you won't find elsewhere.
28. Jay Baer

With a bright plaid suit and a microphone, Jay Baer shows why he is a top marketing strategist, influencer, and Hall of Fame speaker.
One of Baer's oft-repeated phrases is "Same is lame."  One look at this guy, and you can tell he totally lives that idea as his mantra.  Seriously. Can you imagine his closet?
As awesome as his plaid suit collection must be, it pales in comparison to how much experience and wisdom Baer has curated during his career.
Getting his start in 1994 (at the onset of digital marketing), Baer has been at the forefront of promoting and growing brands online. 
A 7th-generation entrepreneur, he has created five multi-million dollar companies, and has provided guidance to over 700 brands. Among those are many household names like: IBM, The United Nations, Cisco, Mayo Clinic and Prudential.
Baer's most recent venture is Convince and Convert, a digital marketing agency that is a little bit different (just like his suits).  Instead of wanting to do all of your marketing for you, they focus on top-notch analysis and strategy.  They give you the customized recipe, and you make the cake, so to speak.
On top of all the awesome digital marketing, Baer also dives into customer experience (aka customer service) and word of mouth marketing.
In fact, his best-selling books cover the importance of the customer experience with your marketing (online and traditional).
If you haven't been lucky enough to see Baer in person, he has three different podcasts where you can learn from him and many other experts in the industry.  When you need more how-to advice, the Convince & Convert blog will be a treasure trove for you.
When you learn from Baer, you will see lots of examples from a variety of businesses that do something really, really well…something different and unexpected…in the best way.  The Talk Triggers Show features such an organization on each episode.
These examples help to get your creative juices going on what could work for you, and show you how to apply the principles to your business.
So for some ideas that extend beyond content marketing, Baer is the guy to follow.
29. Pam Moore

You see Pam Moore named on almost every Forbes Top 10 Influencer list…for very good reason!
Moore has been marketing start ups, big corporations, and non-profits for "longer than the term social media has been around."  With all her successes, she knew she could make a broader impact by venturing out on her own.
So Moore said goodbye to the big name employers, and took the risk of starting her own digital marketing agency.  That company quickly became a success. No surprise there.
Since then, Moore has created a new digital marketing agency, Marketing Nutz, where they focus primarily on relatively short engagements doing analysis, strategy and training.   For her, it's really about providing an outside expert perspective and giving the client the path to move forward.
Moore goes beyond helping clients and speaking engagements, though.  She teaches her widely implemented methods through the Social Profit Factor Training Academy.
You can also follow Moore on her blog.  We love her spunk and enthusiasm. What you'll really like is her easy-to-follow advice!
Among Moore's many talents, she is particularly skilled at teaching marketers how to understand and appeal to their audiences.  Everybody needs to know that, right?!
But one of her lesser-emphasized ventures is with hair salons!  Moore is a Redken Business Artist that helps stylists get on the cutting edge of  business building through digital marketing.  (Perhaps this is why her style is always spot on!) 
Next time you slide into that barber chair, ask if your stylist has heard about Pam Moore.  See what they say.
Feel free to join her 2 million other followers and find out why Moore's advice is trusted by the biggest names in business.
30. Joel Comm

Joel Comm is the "functional futurist" who is all about having fun and making money online!
In fact, FUN is so important to Comm that he wrote a book about it and did a fun podcast about the topic.  In his view, if what you are doing doesn't allow you to enjoy your life, what is the point of pursuing it?
Comm is a self-proclaimed "eternal 12-year-old" who has learned how to take on adult responsibility too. This means he explores and takes risks in areas that interest him.  As he gains experience, others seek out his experience and knowledge. That's when he writes books, takes speaking engagements and the sort, so he gets paid for his expertise.
His curiosity has paid off several times during his career.  It started in the 90s when he created the first multiplayer gaming site, which was purchased by Yahoo! Inspired by the rise of YouTube and The Apprentice, Comm started the first Internet reality series, The Next Internet Millionaire.
And believe it or not, Comm is the guy behind the original IFART app.  (Nope, he wasn't  kidding about the eternal 12- year-old thing.)
Comm is a NY Times best-selling author and has written 15 books that show the breadth of his expertise in digital marketing.
Live video is one area where Comm has particular expertise and can provide deeper guidance than you will find elsewhere.  And be sure to check out his fantastic blog.  
You can count on Comm to be at the forefront of new technologies and techniques.  That's one of his career-long secrets for his big wins.  And one reason you want to keep an eye on him.
Comm's latest venture?  Cryptocurrency and blockchain technology. He is already capitalizing on what he knows there too.  If the topic interests you, check out his The Bad Crypto Podcast.
Comm can teach you a lot of different things about digital marketing.  The best part is, you can count on it being fun!
Comm At-a-Glance
Superpowers: Live video, digital marketing, blockchain/cryptocurrency
Pro Tip:  Fail fast. Move on. Try new things. There is a whole world of opportunities.  There's a lot of ways to "poop" so you can find your gold.
Fab Freebie:  Kaching ebook
Web site:  https://joelcomm.com/
Blog: https://joelcomm.com/blog
Hey – thanks for sticking with us to the end.  As you can see, there are so many "Yodas" to choose from.  Perhaps you have been inspired to consider something new for marketing your own business.
Need some help making those  ideas a reality?  Lemonade Stand is ready to help you build…then bless…those you strive to serve.  Contact Us today.