The running joke at our internet marketing agency, Lemonade Stand, is that one day we'll actually use internet marketing on ourselves. Because, despite the lack of active internet marketing campaigns we've created for our own business, we've managed to grow into one of our region's largest and most successful agencies. We create thousands of campaigns for businesses around the nation yet we have built our business almost exclusively on word of mouth referrals and from people who have seen the quality of our client's campaigns and inquired on who created it.
Our growth definitely hasn't been all glamorous and it's not like we're a big New York City agency with multi-million dollar accounts… Don Draper isn't walking through that door… thankfully… he'd be taking my job!
Shut up, Don.
Anyway, we're still a SoCal-based startup with a LONG way to go and grow. But, I think at the point we're at now, the growth we have had can definitely be celebrated.
So, I thought I'd share some of the things that have led us up to this point. A few key aspects of how we've built our agency that are applicable to just about any startup business.
Put Customers First
Ok, so we've done SOME internet marketing — basic on-page optimization, paid search marketing on our brand only, and citation updates to make sure that people who search for us can find us easily. But the vast majority of services we offer, we don't even use to grow our own business.
That's not to say we don't want to, it's just that we haven't been able to and the reason why is based on a simple business strategy…
Your desire to work on growing your own business should come second to the commitment of growing your clients' businesses.
Does this mean that we're not wanting to grow? Of course not. Increasing our business allows us to provide more excellence in service to even more clients, it creates more jobs in our community, and it gives us the opportunity to invest more in our employees.
[ctt template="3″ link="b5c77″ via="no" ]Your DESIRE to work on growing your own biz should come 2nd to the COMMITMENT of growing your client's biz @JohnRowa https://ctt.ec/b5c77+[/ctt]
But a client-first mindset causes you to allocate your time and resources to your current revenue and not be distracted by the possibility of future revenue. When we have "free" time or time that is not dependant on hard delivery dates, instead of working on Lemonade Stand marketing campaigns, we've looked to provide added value to our clients. We try to "get ahead" of potential issues instead of create new ones by seeking to add new clients to our onboarding process.
Which leads me to my next point…
Bulletproof Your Processes
We actually do work on our own "stuff" quite a bit; but it's rarely ever marketing campaigns. Instead, we focus on fine-tuning internal processes created to facilitate the work we do for our customers.
For example, our onboarding process has over 200 action items. When we first started Lemonade Stand, we relied on a couple of guys who knew how to do great work for clients to just "get it right" with no checklist and no documented process. But, as we grew, it became much more difficult for so many different team members to "get it right" across so many different client's campaigns without a process in place. It was neither scalable nor efficient and we went through many growing pains trying to "get it right" each time.
So, our first step in growth was to create a simple checklist to make sure a new team member would know what to do.
Then we grew some more and had different people working on different aspects of the process, so we made the process digital and collaborative.
Then we grew a little more and made the process automatically communicate with our team management software so that the entire team can see at any point where someone is within the process.
And so on and so on.
When we find an issue, someone brings it up, we agree on a solution and then we update the process.
We are constantly refining and tweaking our processes to make them better — not only for us, but ultimately for the benefit of our clients.
Be Willing to Give Away More Early On
To do this, you're going to need to learn to stomach a heavy workload or high margin in return for low revenue or even losses. But if you can, the long-term gain can be great on so many different levels.
When we first began Lemonade Stand, we gave away a lot for free… website design, video production, tools, etc., just for an opportunity to work with more clients and especially bigger clients.
One of our biggest paid search clients to this day is a result of us offering to beat their competition's conversion costs. Promising to "be better" was a hard sell… promising to "be better" and to prove it by offering two months of work for free was a lot easier sell.
It definitely wasn't easy to stomach, though…
We lost THOUSANDS of dollars in revenue for those two months and HOURS and HOURS of time we invested into winning that account. But, 3 years later, it's been a no-brainer that the time and resources we invested was worth it.
Another great part about taking on loss-leader type of work early on is that it helps boost your portfolio and experience. 100 out of 100 leads are going to ask what you've done before and who you've done it for.
I remember when I was 12 and the ophthalmologist recommended a corrective procedure for my eyes. The first question my dad asked was, "How many times have you done this procedure?" Marketing can get good customers in the door… experience gets them to open their wallets.
And ultimately, the experience gained means your team gets better and you get to increase your prices down the road because of it.
Be Better Than Your Competition… at Everything
It's not a novel idea. "Do good work and word will spread" is drilled into the American entrepreneurial conscience early on. But, this definitely ain't no field of dreams and "build it and they will come" is about as misleading of a business practice as they come.
I mean, how many restaurants have you been to that have killer food but empty tables? There's not a lack of customers out there, it's just that their competition is doing a better job at bringing them through the door.
There's many complex reasons behind that simple truth, but the fact is that no matter what industry you're in, if you're not growing, then SOMEONE is getting the business you aren't.
If you are a great paid search marketing specialist, but you're slow and unresponsive to customer requests, I'm going to take your customer.
If you are a great account manager, but can't deliver a quality ROI, I'm going to take your customer.
If you have similar services and support as I do, but outrageous prices, I'm going to take your customer.
If you are an amazing internet marketer, great at customer service, but every time you meet with your customer, you smell funny… I'm probably taking care your customer depending on how much that customer values personal hygiene.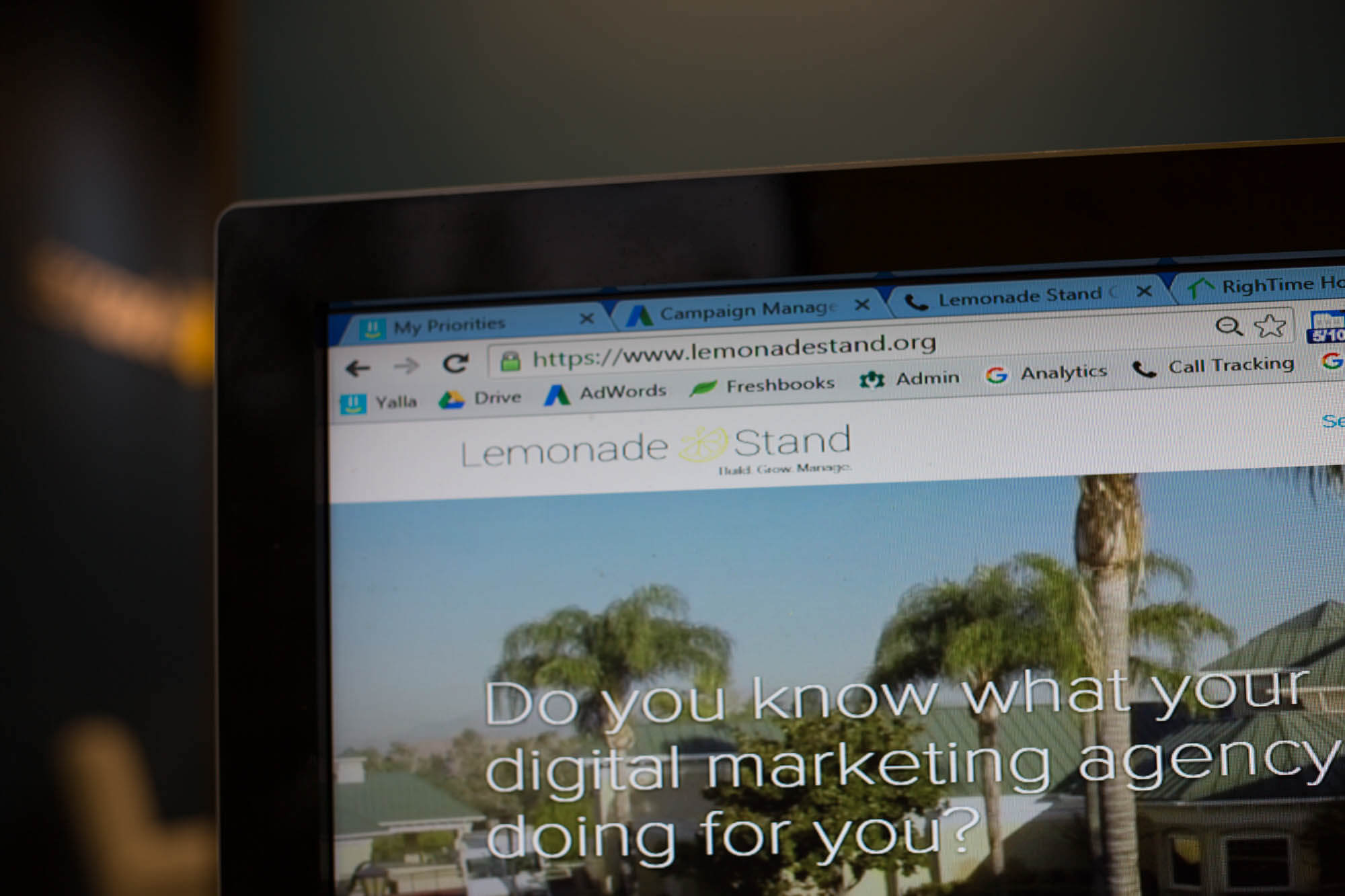 Point is, you have to be better than your competition… at everything. You constantly have to work to improve your business. You constantly have to strive to better than your competition or else your clients will always be looking for a way out.
Our focus in this area is a big reason why we have such a high client retention rate with absolutely no contracts. We rarely have turnover because many of our clients have already tried our competitors.
Want proof? Check out Lemonade Stand's reviews.
Run Your Business like the Tortoise, not the Hare
Slow and steady wins the race. It really does. There are times when we've wanted to dump thousands of dollars into marketing, but we ask ourselves, "Is our process ready to handle that?"
We often worry about our sterling reputation being tarnished by taking on clients that we are incapable of serving with the same amount of detail and care we do our current clients so much that it causes us to pause and work on improving first.
Truett Cathy, founder of Chik-fil-a, infamously exclaimed to his executive leadership team during a meeting about growing the business, "If we get better, our customers will demand we get bigger!"
At some point soon, our agency will take a step in growth that demands that we get bigger and start launching more active campaigns that target new customers like we do for our own clients. But until then, we're passionately and eagerly growing a successful agency slowly and steadily.
After all, we're not in this for a quick gain… we're in it for the long haul.
[ctt template="3″ link="KreaB" via="yes" ]"If we get better, our customers will demand we get bigger!" – Truett Cathy https://ctt.ec/KreaB+ @YallaHQ[/ctt]