It's been a little while since we've released an article about our book club. We are definitely still reading great books and learning from them together as a team, so there will be a few new articles coming out over the next few weeks to catch up on some of those.
In the meantime, however, you're welcome to check out these other ones that we've written about all the other books that we have been able to read as a team. Our book club has been such a wonderful experience and has really helped our people to grow as individuals as well as a cohesive unit. We recommend it as a way for any team, anywhere to grow and develop together!
One of the books that we've read most recently is called "Personality Isn't Permanent," written by Dr. Benjamin Hardy. 
To me, this book has changed my overall perspective on myself and my life perhaps more than almost any other book out there. I absolutely loved the way that it made me think and reflect on what I've done, how I've thought, and where I should be focusing my thoughts if I truly want to improve myself. 
Most of our team felt the same way, and we had some really great takeaways and an incredibly interesting discussion surrounding this topic.
The central idea behind this book is that we are not completely set in our ways as human beings. We can change who we are, what we care about, how we react in certain situations, and many more things! Nothing is totally set in stone, and we have a lot more power over who we are than we might think that we do. 
Personality Can't Be Categorized Into "Types"
The first thing that Dr. Hardy does in his book is essentially tear down false reliance on all of the different kinds of personality tests out in the world. He doesn't do so cynically or to destroy the reputation of any other psychologists out there who have created these tests, he just severely disagrees with them and has done enough research to be able to back up his reasons why he disagrees with them so much. 
The first of these reasons is that you cannot fit all of the different personalities in the world into "types."
Personality is too vast and complex a concept to boil down into a few simple types. Some of these tests go so far as to indicate that there are only two or three different personality types in the world. Dr. Hardy sees this as an absurd concept and believes that we cannot be quite so limiting in our belief when it comes to personality.
Each individual has his or her own personality and it isn't really something that we can define in such limiting terms.
Personality Isn't Innate and Fixed
The second argument is that the personality that you have right now, or at least the personality that you (or one of these tests) claim you have, is not entirely concrete.
It isn't something that we are just born with—good or bad—and have no say in whatsoever. Personality isn't just given to us. 
It is something that we mold and create as we go through life. It can definitely be influenced by our surroundings or things that we've grown up with, but that in and of itself is something that a personality test would never tell you. Most of these tests try to find some deeply rooted thing inside of us and claim that once that is found, you can never change it no matter what you do; your personality will always be your personality. 
Again, with plenty of research to back it up, Dr. Hardy breaks down this argument and tells us that we are the ones who control the personality that we have.
We can absolutely change our personality throughout life. In fact, doing so is really the only way that we will ever be able to accomplish much of anything! As we grow and develop, our personalities naturally change with us. We are constantly changing things about ourselves. New experiences lead to new perspectives, which can completely change the way that we act or respond to things.
We are not static beings. We are extremely dynamic.
Personality Doesn't Come From Your Past
Another popular belief that Dr. Hardy disagrees with is that personality is forged from our childhood experiences or our past, and, again, we are powerless to do anything about it. 
If you respond in a certain way to something, it is because something in your past is triggering you to do so.
While he is very sensitive to the concept of trauma and how that can affect us as human beings, he does not believe that we should limit ourselves because of things that happened to us in the past.
Trauma can be very real and can certainly hold power over us and influence the way that we act; however, it is truly within our own power to overcome those traumas and change the way that we are. 
Your personality is not purely defined by your past. You have a lot of power in determining the kind of person that you are and that you will be in the future.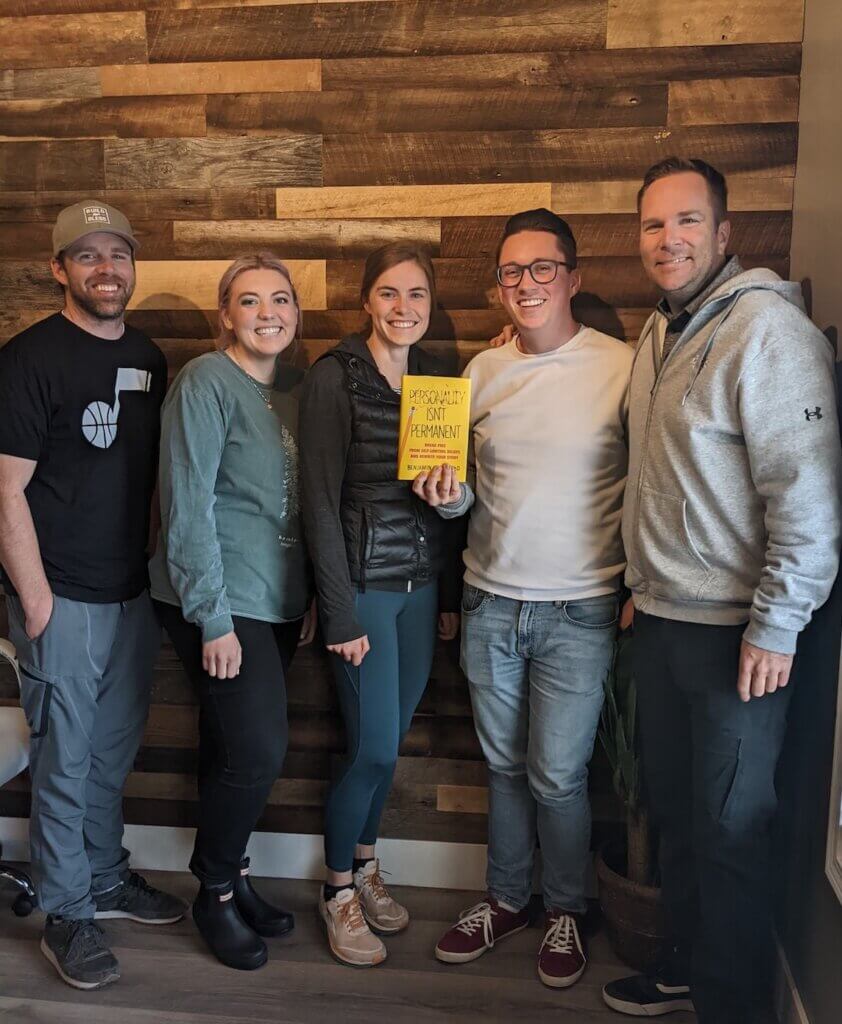 Personality Isn't "Discovered"
This idea goes pretty hand in hand with the concept of your personality not being something innate within yourself.
Dr. Hardy does not believe that we all have a personality deep within ourselves that we have to eventually discover. Taking a test and figuring out what personality you are is not really this grand moment of discovery that will explain away every little thing about yourself.
Again, personality is something that we are able to mold and change as we go through our lives. Don't limit yourself just because you have now "discovered" who you were all along.
Personality Isn't Your True and "Authentic" Self
Once you have the moment of "discovery" that I was just mentioning, you might also feel that you have now found out who your true and authentic self really is.
Once you have discovered this, there really isn't much else to do, right? Now you know who you are, so you better go about living your life in a true and authentic way to who you've been all along, right? 
No!
You certainly can.. but you most certainly do not have to! 
We are still in control and can change things about ourselves that we do not like or ways that we do not want to be. We should not allow this to completely take over and dictate all of our future decisions and the ways that we choose to live. 
You have so much power in determining who and what you are!
Your Goals Shape Your Identity
One final thought from this wonderful book. 
Dr. Hardy really focuses on the idea that the goals that you have in life are what will really shape your personality and your identity. 
At the end of the day, it is what you are hoping to accomplish and what you are willing to do to get there that will mold you into who you become. 
It is our future, and our outlook on the future, not our past that determine the kind of person that we are. 
Figure out who you want to be in the future. Always focus on the future "you" and not the "you" of the past or even the present. Decide who you want to be, and then you can go from there in figuring out how to become that person.
There are so many more concepts and great ideas in this book that I wasn't able to touch on. Like I said, this is one of my favorite reads of all time, and I highly encourage you to take a deeper dive into it and read it for yourself. 
Dr. Hardy really goes in depth on goal setting and how that can completely change that trajectory of your life. He also provides a lot more research and facts to back up his arguments than what I included here. It is an incredibly interesting, thought-provoking, and life-changing read.
Definitely check it out if you have the time! I've included a link to purchase the book here, but I also invite you to reach out to our awesome team as we'd love to send you a copy! 
We would also love to be able to help you grow your company by expanding your digital presence. Please reach out to us if you're ready to take your business to new heights!