What a tagline! If there is one thing that instantly raises a smile when you learn about Shelter to Soldier, it's that they bring together post-9/11 combat veterans with trained rescue dogs. Recovery for those who have been in active service is not a smooth ride, with everything from traumatic brain injury to PTSD being hard to overcome. With the help of Shelter to Soldier, veterans can start to move forward with a lifelong pal by their side to help them out. They literally save lives, two at a time.
What is Shelter to Soldier™?
As a California 501c3 nonprofit organization, Shelter to Soldier adopts dogs in local shelters and puts in the time to train them to be psychiatric service dogs. They are then paired with post-9/11 combat veterans who are dealing with the effects of post-traumatic stress disorder, traumatic brain injury, and other psychological wounds caused by trauma while in service.
Most people aren't aware that 20 US veterans are lost every single day to suicide. In the space that it takes people to binge-watch three episodes of a show on Netflix, two people have lost their lives, and the numbers are climbing. The lack of mental health and support available is glaring, and the suicide rates are eclipsing the numbers of troops who are dying in battle. These figures are also on par to set a record high since Afghanistan and Iraq's wars began more than a decade ago. 
Post-traumatic stress disorder is the biggest problem for returning men and women in uniform, and it doesn't go away overnight. Heroes need help off the field as much as on it, and Shelter to Soldier was started to provide that help. 
The Founders & People Behind the Passion
The founders, board members, and dog trainers work together to ensure veterans' long-term mental health and the long-term well-being of rescue dogs is as on-point as possible, helping to lower veterans' suicide rates.
Graham Bloem – ABCDT Co-Founder – President – Training Director
With 18 years of experience as a professional dog trainer, Graham has a passion for helping dogs and vets alike. Graham has a long history of animal-related business and management experience.
Kyrie Bloem, MS – Co-Founder – Vice President
Kyrie works as the administrative director for the program. She works closely with all of the events organization and fundraising, serves the business as a grant writer, and ensures that the volunteer team is coordinated daily. Kyrie is the leading facilitator behind the daily operations of the charity.
Krystyna Holc, CPA – Co-Founder – Treasurer
Krys works as the genius behind the financials, ensuring that the program is working well and running correctly.
LtCol Brian Dennis – Board Member
Brian rescued a wounded dog named Nubs in Iraq, where he served as a marine. LtCol Dennis continues to serve his country and is currently stationed in Texas.
Dr. Liz Grey, DVM – Board Member
A veterinary doctor, Dr. Grey owns a private practice Carmel Mountain Ranch Veterinary Hospital in San Diego. With over 30 years in veterinary medicine behind her, Dr. Grey serves on the board of directors as a way to give back to the women and men who protect our freedom.
David Moss, LCSW – Board Member
Shelter to Soldier needs a social worker on board to assist with advice and help in the mental health department. David has worked as a social worker since 2001 and has worked for the Department of Veteran Affairs for a decade.
Michael Ford – Board Member
A native of San Diego, Michael has worked to support the philanthropic arm of Cox Communications. He is passionate about animal rescue and sits as a board member with Shelter to Soldier.
Nicky Moore – Director of Operations & Dog Trainer
Nicky works with Shelter to Soldier to train the rescue dogs that come in. With an Animal Behavior College's Professional Dog Training Certification qualification and a Bachelor of Science in Business Management, Nicky is well placed as director of operations with Shelter to Soldier.
As well as the members above, there is a large team of dog trainers that work within Shelter to Soldier to ensure that all rescue dogs go to their new partner with patience and understanding in psychiatric training.
All About the Dogs
While Shelter to Soldier is focused on veterans and supporting their mental health, they do this with rescue dogs' help. Two types of rescue dogs are available with Shelter to Soldier: 
Emotional Support Dogs

Psychiatric Service Dogs  
Every year, the US sees around 3.9 million dogs taken into shelters. Many of these dogs (1.2 million) are euthanized due to lack of space, medical issues, or behavioral issues that make them unsuitable for rehoming in normal circumstances. There are always dogs that are overlooked in shelters, especially those of certain breeds and those who have issues being left alone. Some of the dogs left behind have problems with manners and are not housebroken, either. Shelter to Soldier believes that no dog should be left behind when a team of professional dog trainers can work with the dogs until they are trained to an elite service level. Unwanted behavior is modified, and the team of dog trainers with Shelter to Soldier is expert in what they do.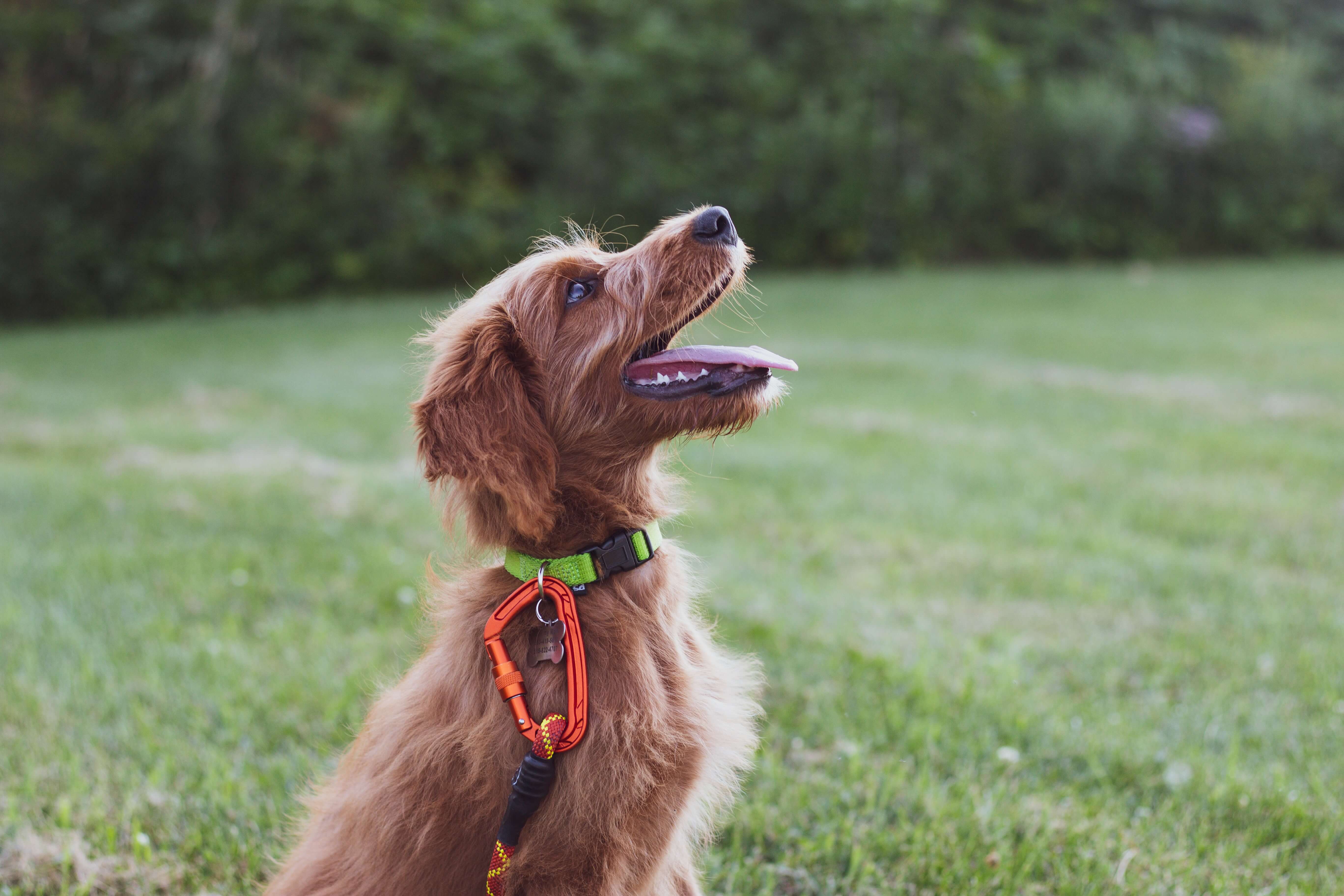 Trained dogs are then paired with a veteran, and they serve in a critical capacity to ensure that they offer psychiatric support to their handler. With one in five combat veterans dealing with post-traumatic stress, they need a channel of support. The dogs trained by experts with Shelter to Soldier are the perfect companion, as some vets cannot leave their homes or engage with society as they would have liked to because of the PTSD.
Shelter to Soldier offers support in the form of trained rescue dogs, who do not judge or push, who are patient and steadfast, who provide companionship and care. Veterans have experienced a boost in confidence and a new lease on life, and we like this! In a world of so many bad things, the good that Shelter to Soldier does for both dogs and wounded veterans is nothing short of inspirational. The service dogs win, too, with a lifelong companion. They feel needed and wanted at last, which is not something they feel while they are in a shelter.
Dogs that are adopted by Shelter to Soldier are trained up to 18 months to be obedient and focused on their handlers. They're taught to be patient, confident, and to trust the human training them. They're trained to ignore distractions and to assist when their handler is stressed, anxious, or dealing with the effects of depression. They learn a range of commands, from "watch" and "block" to "closer" and "under." It costs Shelter to Soldier $15,000 per dog and veteran team from adoption to graduation. For every business or private individual who donates this amount, a pair can be matched. This includes costs of housing, grooming, medical care, food, treats, training, service dog equipment, and documents, testing, handling training, and more. It even includes graduation and associated materials.
The adopted rescue dogs are four months to 1.5 years in age, and the breed is irrelevant. All that's necessary is that they are in good health, and they can be a part of the service dog training program. Over this time, the dogs are evaluated for handling new environments and people, noises, and their overall sociability.
What About Customer Service?
The opinions and commentary alone from veterans with Shelter to Soldier can show you exactly how much good they do. When it comes to customer service, Shelter to Soldier veterans who have been paired with their rescue have nothing but good things to say. This quote is taken directly from their website speaks for itself:
"PTSD is a silent hostage taker to those around you, yet deafening to those it has a hold of. It takes away all that you are and replaces it with constant videos of everything you want to forget but can never unsee. It confines you to a life that is secluded from everything and everyone, this being the only way you can feel safe. Through the compassion of Shelter to Soldier it has given me the ability to fight back against this paralyzing condition and find that part of me that was lost so long ago. Both Shelter to Soldier and Ace have brought me back to life, enabling me to break free from this solitary confinement and to once again experience life and live." — John W. Schulte USMC (Ret.)
Shelter to Soldier offers a quick and easy way for veterans to apply to have a dog via the website. The application involves answering active service questions, questions about the type of dog the applicant is looking for and details on their background and character. For those who are accepted, events are run throughout the year to raise money for the sponsorship of the dogs and to bring veterans together.
Sponsors Make a Difference to Dogs and Vets
There is a range of sponsorship options for those who want to sponsor Shelter to Soldier, and they are important in keeping the money coming in for this charity. Without sponsors, Shelter to Soldier couldn't continue to do the valuable work that they do. Here are the different package types and how sponsors can really make a difference with their help:
Red Star Sponsorship – $15,000
When a sponsor comes on as a Red Star sponsor, they begin a year-long co-marketing campaign with Shelter to Soldier. They work closely with the PR Director, and a dog is adopted from a shelter and named to reflect their sponsor's support. Shelter to Soldier then spends up to 18 months training the dog before placing him with a post-9/11 combat veteran. The sponsor then gets to be a part of the graduation ceremony of the dog and the veteran as they start their new life together as a pair.
White Star Sponsorship – $10,000
A step down from the Red Star Sponsorship, the White Star sponsors have a direct impact on the lives of veterans on a huge scale through the mental health services available, with community outreach and peer-to-peer counseling and help to local veterans' organizations. There is also time spent to support veterans in training and those who have already graduated the training program.
Event Sponsorship
Bringing graduates together is important to Shelter to Soldier and event sponsorship enables them to use funds to offset the costs of running the events to do this. Event sponsor branding is so important to the charity, as the costs help them to spread their message to veterans who may not be aware of the help that's out there. Companies that donate in the form of event sponsorship can demonstrate their charitable efforts and support veterans and shelter dogs who need extra help. 
How Donations Are Used
If there is one thing that's evident with Shelter to Soldier, it's that they have a fantastic community and a strong team of volunteers. These relationships are vital to continuing the valuable work that they do every single day. Most of the public donations to Shelter to Soldier are directed to further programs and services for veterans. The team behind Shelter to Soldier believes that every dollar has to count and be pumped back into what they're trying to achieve, so much so, they're not shy about how they use their funding.
Shelter to Soldier invites the employees of sponsoring companies to volunteer with them so that they can get involved in the work that they are doing. They can volunteer with the company and work face to face with the dog trainers and vets who are looking for the support — it's enriching to see that they want people to see it first hand so that they understand what they are funding.
How You Can Help
There are several ways that the public and private businesses out there are encouraged to support Shelter to Soldier. These are detailed on the website and include:
Donations. Any donation can help rescue dogs and can impact the lives of surviving veterans and their families, especially when they have been in war.
Volunteering. Any way that people can give back by volunteering their time is valuable to Shelter to Soldier.
Corporate Sponsorship. If a business is looking into a new charity to support and represent their business, then Shelter to Soldier welcomes anyone who wants to save lives. Your company can make a big difference. Be a part of a team that is "saving lives, two at a time."
Event Sponsorship. Continuing the mission of Shelter to Soldier is important, so hosting a fundraiser can change the lives of those involved, and people are invited to organize fundraisers to support Shelter to Soldier at any time.
The Shelter to Soldier Timeline
There is a specific timeline of movement for Shelter to Soldier rescued dogs and veterans:
When a dog and a veteran are matched, veteran handlers train with Shelter to Soldier for up to 6 months to learn to communicate with their new dogs. Handlers learn how to create a loving bond with their new dog, and they learn the commands and regulations for service dogs to prepare them for life with their service companion.

Before training can be completed, three tests are required:

Canine Good Citizen

ADI Public Access Test

Task-Related Test

Graduation is the next step, and there is a celebration for the dog and the handler once the training is done. This is where their lives as a team begins, and it's one of the shining moments in Shelter to Soldier history: it shows the support is working.

Sometimes, job opportunities are available for some graduates of the Shelter to Soldier program. Shelter to Soldier work with vets on the frontline to support them when they come home.

Therapy is an option for approved applicants. This is awarded at no cost, enabling Shelter to Soldier to provide even more mental health support beyond their dogs. There is also peer-to-peer counseling available at no extra cost with the volunteer support of Ben Kilhefner, US Navy Ret. 
The Takeaway
Shelter to Soldier supports their graduates over the years; they don't just ship them out and wave goodbye! The support that continues on after the training is as valuable as the work that Shelter to Soldier does to train rescue dogs and pair them with the right veteran. With social events donated by the local community, veterans are encouraged to integrate more and be a part of a community again after combat. Dealing with PTSD and TBI is not easy, but with the help of the new service dogs and the unwavering support of Shelter to Soldier, vets can start looking positively to the future. This is a company making a huge difference in the world, saving lives, two at a time.